1959 GMC 9380 1 ton
This is my car hauler truck when I put it together in 1989/90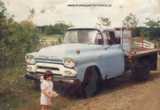 June 1989. That's my oldest daughter in front of the truck, as I got it out of a farmer's field about 90 KM north west of Edmonton, Alberta.
My first paint job, done in my garage !
These are the engine mounts that were fabricated to install the 348/409 W block engine on the factory 6 cylinder frame stands. No modifications are required to the vehicle. We have the pattern for them so if required, we can make a set for your 1955-1959 Chevrolet or GMC truck.
Close up showing the 2" tube headers that I built for the 427 CID 348 engine. Everything else on this truck is original Canadian 1 ton. The wheels are the factory 18" split rims, that I had all 7 chromed !
My truck, October 7, 1991, just after winning "Best Truck" and "Best Street Vehicle" at the Edmonton ISCA judged "World of Wheels". On the right is a picture taken on Parlament Hill in the Capital of Canada, Ottawa, Ontario.... June, 1992.
The interior of my truck, taken April 12, 2003.
Detailed photos of the trailer I built for hauling 1961-1964 Canadian Pontiacs and Chevrolets. Completed in March, 1992.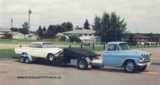 Taken at the Glenmore Inn in Calgary, Alberta, July, 1992 while attending the Nostalgia drag meet at Race City Speedway. The Belair on the trailer was not the cream one I have now, but it did run pretty hard !
Here are a few views of the freshened 1959 250HP 348 that I just installed in the truck in February, 2003. This engine will be used until the new 482 CID 409 is completed. Will be doing a complete re-paint of the body, and polishing all the aluminum... ready for the Late Great Chevy Convention in Idaho, August, 2004.
http://www.bruneauperformance.ca
Copyright © 2001-2013 A Bruneau Performance Ent. All Rights Reserved World Wide.