Hot Rods & Hobbies
with Ford flathead V8 's
As an additional service we offer Hot Rod restorations in the traditional / nostalgic theme. Many years experience with Ford Flathead V8 engines.
1 403 854 4097 / 1 403 854 4094
If you would like more information you can E mail
Here is my Dad's 1966 Toyota Land Cruiser with a 300HP 327 Chevy engine running a 2 speed over drive in front of the 3 speed floor shift transmission. 6 forward speed in high range ! Needless to say, I'm a standard shift guy ! My first car, 1946 Ford Super Deluxe Sedan, taken at Revelstoke high school, September, 1977. I got this out of my Grandfather's junkyard in 1976. When it was red, this picture taken in Prince George BC,, in 1984.
My old hotrodded flathead with the headers I built for my 1948 Ford Business Coupe with T10 4 speed.

Here is my "one that got away" .... sold this 1948 Ford 3pass coupe to help pay for the '35 in 1991. Out of the some 100 cars that I've owned, this is the only one I completely regret selling. 24 MPG, with 3.36 gears a top speed of around 105 MPH. At 3500 ft elevation in Calgary, Alberta, I ran 16.85 1/4 mile !
This has been my dream car since I was 10 years old. My 1935 Ford Deluxe 3 window Coupe with rumble seat. It is an original Canadian car that I coated in black primer so it would be one colour. The "apple green" wheels are correct colour combination.
The original 1935 221 CID flathead V8 with a set of "Evans" high compression heads.
On the right is a driver's view arriving into Hanna, Alberta in October, 2002 after a 275 mile trip !
My ultimate plan is to carefully Hot Rod this car with: 286 CID, 46 Canadian Merc. Crower Roller Cam, lightened crank, Crower rods, Offenhauser cyl. heads, Weiand 4 carb manifold with risers & common plenum, amongst many, many other internal modifications. 1 HP per cubic inch? We'll see! T10 4 speed, 4 link with 62 Chev rear 3.36 posi. using original transverse spring. Front traditional drop axle and "40" brakes. Widened stock wheels. Everything else will be 35 Ford restoration.
Some of the equipment I recommend for a fun flathead Ford V8 car. New Offenhauser high compression aluminum heads, available for the 1939-1948 engine ( pictured ) and the 1949-1954 engine with the thermostat housing/water outlet at the front of the head. Tremendous improvement in mid-range/high RPM power and efficiency is provided by the use of these heads. On the right is a new Offenhauser bell housing adaptor which accommodates ANY General Motors 4 speed to bolt directly behind your 1932 - 1948 & up to 1954 truck Ford or Mercury flathead V8 engine. All stock clutch linkage is retained ! You can use a Saginaw, Muncie or BorgWarner T10 or Super T10. Photo at right shows the absence of the coolant outlet on the "marine" heads.
E MAIL about Ford flathead V8's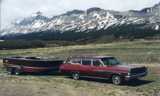 Shown here, on my way back from Grant's Pass, Oregon on May 12, 2001, behind my 1963 Parisienne Safari. Picture was taken along the highway in central Montana ! After doing a little research on the net, it appears that it would be a 1950's ChrisCraft 19 ft Utility Runabout kit boat. It's powered by a 1948 Mercury "59A" flathead using an Isky Max 1 camshaft, Navarro intake with twin Strombergs.
Here it is, just as I bought it. After fixing the fuel lines and setting up the distributor, the engine runs just as it should ! I have replaced the Fenton intake with a Navarro "Racing Model".
My Navarro high compression aluminum heads for marine application ! Note no provision for radiator hoses. Simply uses a fitting at the back of the head where the water is transmitted through a tube to the exhaust. These are quite high compression....
With the heads installed ! Engine is .030" over 239 CID ( 244 CID ) , an actual marine block and is factory relieved ! The heads after cc 'ing them, have raised the compression ratio from the stock 6.5:1 ( .25 lower than the normal 6.75 because of the relief ) to 8.8:1 ! And the difference ? .... The boat now tops out just under 40 miles per hour ! Mid range power feels like there's two engines ! It DOES require premium fuel now.
The interior will be re-done with cream seats and padding, medium orange flooring, with varnished mahogany trim. The engine will be rebuilt to 276 CID by way of a 4" stroke 1950 Merc crankshaft, and will use the Navarro high compression ( genuine marine application ! ) aluminum heads. Result will be approx 175 horsepower & 250 ft lbs torque. The block, timing cover, oil pan, and carb bases will be polished and painted BRIGHT orange. All the other engine components will be polished aluminum, brass, and/or CHROME !
As my boat look now. For this year, we're going to take her out a few times this summer. Then, this winter, complete the refinishing as described above.
See the work that was done to get the "new" look !... FINALLY a bit of refinishing ! ( this part completed June 17, 2006 )
And... the first time out... June 24, 2006 !....
On the left, just after launching... letting her "soak up" a bit. A nice shot, later that day... just at dusk.
This boat was sold in August, 2008 !
www.macgyvers.com Canadian made street rod suspension components
I highly recommend Patrick's Antique Cars & Trucks in Casa Grande, Arizona for all Ford flathead V8 rebuild and high performance parts. Absolutely THE BEST prices on Offenhauser high comp heads, multi carb intakes, brackets, 4 speed transmission adaptors, Iskendarian Cams, and Mallory ignition. Exceptional service to Canada.
You can phone them at 1 520 836 1117 / Fax 1 520 836 1104
Website: http://www.patricksantiquecars.com
or mail at:
P.O. Box 10648 Casa Grande, Arizona, U.S.A. 85230

My first 1964 Pontiac Parisienne Custom Sport, purchased in June 1979. Factory 300hp 327 3-spd. std.
| | |
| --- | --- |
| | |
| 1963 Pontiac Parisienne | with 327 300hp 4spd Ran NHRA Stock 1980/81 |
I traded this car, detuned, for a 1964 Impala SS.... to this day, the biggest mistake I ever made with a car !
I sold the pink '64 Pontiac to build this 1961 Chev Biscayne in 1986
| | |
| --- | --- |
| | |
| "Built" 360hp 409 4spd - Ran best of 12:68 @ 107mph in Calgary | Raced from 1986 - 90 |
Sold the Biscayne in 1991
My Wifes 1960 Metropolitan
| | |
| --- | --- |
| | |
| 1960 Metropolitan as I bought it for my wife, Dec. 7/95. | She didn't know about the car until it looked like this on Dec 27/95. (Yes, three weeks!) |
These are a series of photos that I took on July 14, 2006.
This car was sold August 2009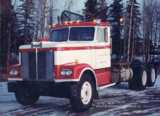 1969 Hayes Clipper conventional. 335 Cummins, 13 + 4, early 4640 rears, 1100 X 22 rubber. This was the last surviving Canadian vehicle manufacturer. Built in Vancouver, British Columbia, they were mostly known for their un-rivaled, even to this day, logging trucks. Bought out by Peterbilt and last produced in 1976. I owned this truck in 1994 / 95. 1969 was the first year of the one piece fibreglass tilt hood on the Clipper series.
In memory of my long time friend, Ryan Johnson. Here with his "new" 81 Malibu Stock car that I painted for him.

- July 27th 2001

Ryan in the "heat" of it at Sunset Speedway, Wetaskiwin, Alberta, in May, 2000. The always popular "Thunder Car" class.

Ryan, I'm sure your competitors on that "big race track" still only see your tail lights.
---
We can locate the car of your choice and build it right here in our shop !
Please note all Pictures are copyright by A Bruneau Performance You may copy them for personal use but not for redistribution on the web or in print without written permission.
To go to main page just click: http://www.bruneauperformance.ca
Copyright © 2000-2013 A Bruneau Performance Ent. All Rights Reserved World Wide.